Presentation and background
As part of our efforts to enhance the client experience and the system's fluidity and performance, we are working towards all-door boarding.
That will require our buses to have a new smart card reader system at all doors. To that end, we have acquired a new generation of readers with a larger screen and several features to improve universal accessibility. They will also allow for the evolution of payment and ticketing methods. These readers will be installed at the front doors.
Information for clients
How it will work with the new readers
Board at the front.
To validate,

place your card horizontally on the lower part of the reader

, over the icon showing the hand with the waves.
Read the message on the screen: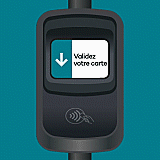 Validation successful!
Say hello to the driver and take a seat.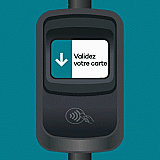 Validation successful,
but you'll have to reload your card before tomorrow.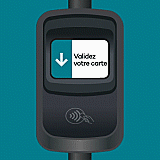 Validation failed
Use a ticket or cash.
You must show the driver the photo side of your card once it has been validated.
December 2019: Purchase of the readers
We purchased 500 readers to equip all of our regular and articulated buses at all doors, as well as 10 portable readers for spot checks of passes.
November 2020: Installation of the new readers
We have received and started installing the new readers at the front doors of our buses. The current readers will be moved to the rear doors. This work will take several months. In the end, the entire fleet will be equipped with a reader at every door.
---
Good to know!
The readers that are moved to the rear doors will not be operational. You do NOT have to validate your card there. They will only be activated once all-door boarding comes into effect.

---
All-door boarding begins
All-door boarding will come into effect when all readers have been installed and when the need has been identified, and then only at stops and during designated periods, where ridership is highest.