To find out more about COVID-19 and public transit, as well as the measures introduced by the STO,
go to Coronavirus (COVID-19)
Seven consecutive days of unlimited trips for only $35. One-day and three-day passes also available at all STO points of sale. See the details of these passes.
---
Advantages
Economical

, it allows you to travel for less than a paper ticket or cash fare.

Flexible

, it can hold a pass or a cash amount.

Personalized

, it holds the transit pass or ticket that meets your needs.

Practical

, it allows you to travel on the OC Transpo system.

Essential

, it is necessary for transferring easily to Ottawa's O-Train.

Accessible

, it is easy to load close to home.

Transferable, as long as it's a non-personalized Multi

, in which case it can be shared with another person to use on a separate trip.
The personalized Multi card - Everything on one card
Did you know that your personalized Multi card can hold a pass, e-wallet and e-transfers all at the same time? This way, just one card is enough to cover all your travel needs.
You can get one at any STO point of service (and have a photo ID in hand).
The personalized Multi card is not transferable because your name, rider category and photo appear on it. You are therefore the only person who can use your card on the STO and OC Transpo systems. In the event of fraudulent use, the card may be confiscated.
The non-personalized Multi card
The non-personalized Multi can be shared. There are two types:
You can get them at any STO point of service or any one of more than 50 points of sale in Gatineau.
Non-personalized Multi cards cannot be used by more than one person for the same trip.
Valid fare payments on OC Transpo

The Multi card is the best way to transfer to the OC Transpo system and the O-Train. Learn more about the changes to service in downtown Ottawa.

Also find out about the valid STO fare payments on OC Transpo.


How to use your Multi card
Information for clients
How it will work with the new readers
Board at the front.
To validate,

place your card horizontally on the lower part of the reader

, over the icon showing the hand with the waves.
Read the message on the screen: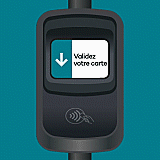 Validation successful!
Say hello to the driver and take a seat.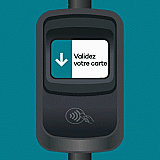 Validation successful,
but you'll have to reload your card before tomorrow.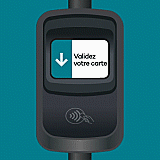 Validation failed
Use a ticket or cash.
If you have a personalized Multi, you must show the driver the photo side of your card once it has been validated.
If you get a red light: fare payment is required. You must pay your fare using another payment method. In this case, ask the driver for a transfer (your proof of payment in case an inspector asks to see it). If you think the red light could be due to a technical problem, please go to one of our Service points or call at our Customer relations service.
Note that your receipt is no longer accepted as proof of validity of your Multi card when you pay your fare. Instead, it is used to validate your transaction at a point of sale or on the Web.
Where to load your Multi card
You can load your card at any time:
Lost, damaged, stolen or defective card
If your card is

lost, damaged or stolen

, go to one of the

service points

to get a new

Multi

card and its contents for a fee of $10 (non-taxable). If your card had no cash value, a fee of $8 (non-taxable) is payable.
If your

Multi

card is

defectiv

e, it will be replaced at

no charge

.